1961 – 1969: INSTITUTE OF ARCHITECTURE DESIGN
Implementing the first five-year plan (1961-1965), the Ministry of Architecture not only carried out the sectoral management but also focused on production functions to build the North to be the rear for the South.
The Institute of Architecture Design designed most of the major public works, including headquarters of pulic agencies, schools, hospitals, department stores, residential buildings throughout the North. Cities were renovated, and developed.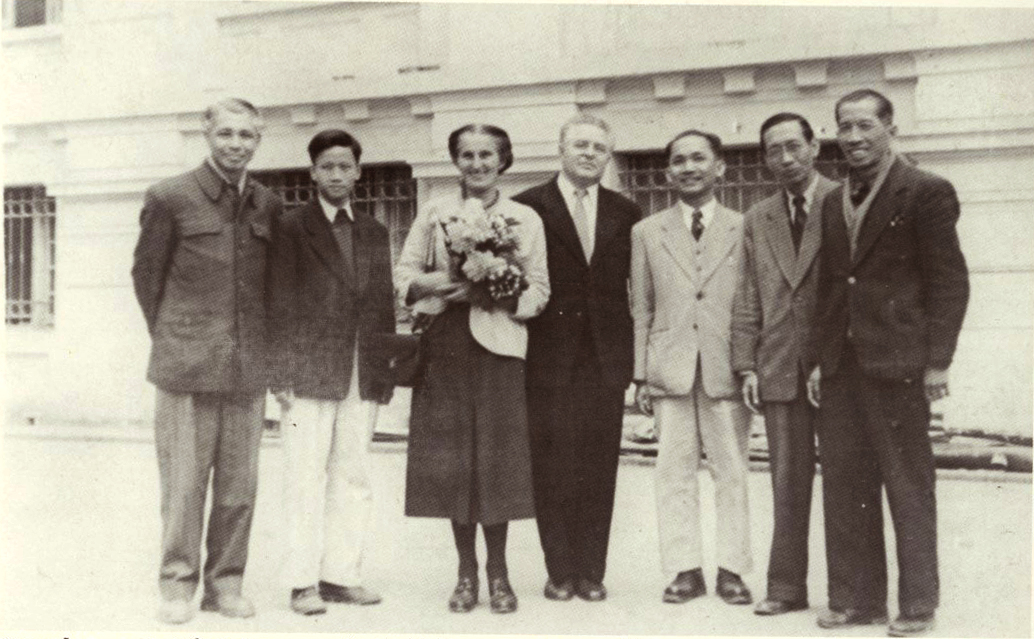 Photo: Arch.Nguyen Cao Luyen, Arch.Khong Toan, Arch.Tran Huu Tiem, and Eng.Pham Dinh Bieu were welcoming Soviet Union Architecture Delegates to visit Vietnam in 1962.
In 1964, the US conducted aerial bombing campaign to the North, damaged numerous buildings. The Institute was entrusted to secretly designed shelter and anti-aircraft works. With patriotism and self-reliant spirit, our architects and engineers designed specialized tunnel with the bomb shield thickness equal to concrete grade 300. 132 air-raid shelters, 16 air-raid and 21 in-cave evacuation shelters were built. Air-raid wall were erected to protect critical construction works from the US sabotage.
Little did anyone know the hardships and life-threatening circumstances they overcame in order to conduct explosion impact test for selecting the appropriate materials to design anti-air-raid construction.
Photo: Updating: Deputy Minister Vu Quy with the Chief of Institute inspecting the 8/3 weaver residence.
Hien Luong flagpole was one of the most crucial political and historical work the Institute has designed. It was a 38.5 m high steel structure, built in 1962 on the northern bank of the Ben Hai River. The project was not large-scale yet extremely difficult to meet its technical requirements. The pole construction required shortest construction time yet high endurance because it had to endure the strong wind while holding 134m2 Vietnam national flag. After successfully built, Hien Luong flagpole was a symbol of patriotism and fighting spirit for the nation independence, freedom and unification.
In Hanoi, Ba Dinh Conference Hall located in the central of Ba Dinh Square (designed by Arch.Tran Huu Tiem and Arch.Nguyen Cao Luyen) was entrusted to the Institute of Architecture Design. Until now, it has served as a historical work of the country for decades.
In the period, young personnel were significantly supplemented for the Institute from domestic and foreign universities. The institute also pioneered mass application of ground reinforcement using bamboo piles and sand bedding, floor and roof waterproof using soaking cement. These methods have been widely used throughout the country until today.
Typical projects
Ba Dinh Conference Hall
Museum of Vietnam Ethnic Culture (Thai Nguyen City)
University of Agriculture
Traditional medicine Research Institute, Hanoi
HQ of Nghi Lo People's Committee (now called Nghia Lo Commune People's Committee)
Kim Lien Residential Project